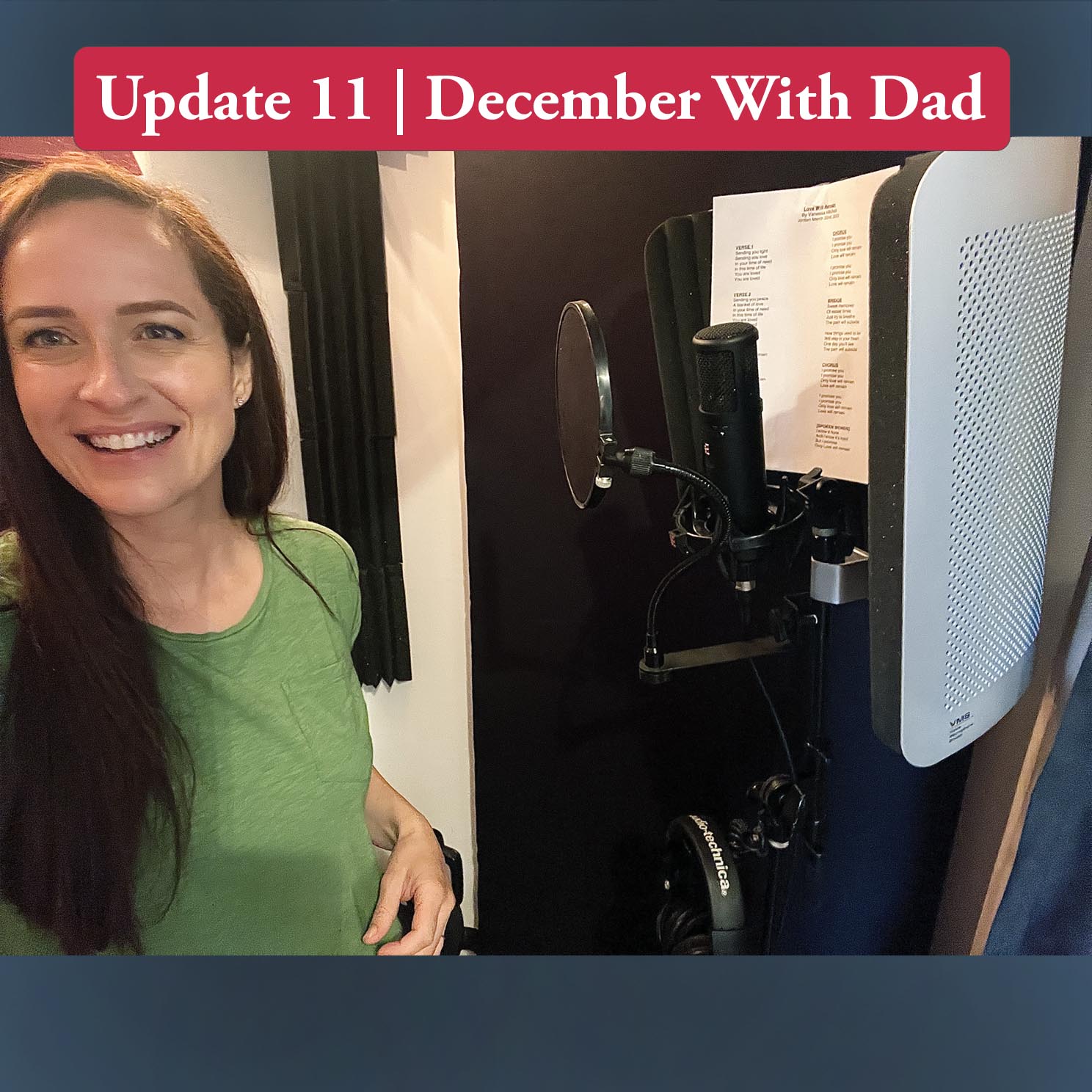 A daily family circle is composed of people who each play a specific role.
Last year in ours, Dad was the oldest at 73, all the way down to Liv who was 3.
Even with Liv being "new", I could no longer imagine our family without her.
I took great comfort in the puzzle pieces all fitting together perfectly.  🧩
Have you ever seen a puzzle with ONE missing piece?  
As someone who likes things "just so", it feels…
Uncomfortable.
Out of balance.
I'll share the most helpful piece of advice that I've read about grief from author Michael Singer:
"𝘈 𝘭𝘰𝘴𝘴 𝘰𝘧 𝘢 𝘧𝘢𝘮𝘪𝘭𝘺 𝘮𝘦𝘮𝘣𝘦𝘳 𝘪𝘴 𝘵𝘳𝘦𝘮𝘦𝘯𝘥𝘰𝘶𝘴𝘭𝘺 𝘱𝘢𝘪𝘯𝘧𝘶𝘭 𝘣𝘦𝘤𝘢𝘶𝘴𝘦 𝘪𝘵'𝘴 𝘢𝘯 𝘦𝘯𝘵𝘪𝘳𝘦 𝘳𝘦𝘢𝘳𝘳𝘢𝘯𝘨𝘦𝘮𝘦𝘯𝘵 𝘰𝘧 𝘵𝘩𝘦 𝘦𝘯𝘦𝘳𝘨𝘺 𝘪𝘯𝘴𝘪𝘥𝘦 𝘰𝘧 𝘺𝘰𝘶. 𝘛𝘩𝘦 𝘨𝘳𝘪𝘦𝘷𝘪𝘯𝘨 𝘱𝘳𝘰𝘤𝘦𝘴𝘴 𝘪𝘴 𝘯𝘢𝘵𝘶𝘳𝘢𝘭, 𝘵𝘩𝘦 𝘲𝘶𝘦𝘴𝘵𝘪𝘰𝘯 𝘪𝘴 𝘢𝘳𝘦 𝘺𝘰𝘶 𝘸𝘪𝘭𝘭𝘪𝘯𝘨 𝘵𝘰 𝘨𝘰 𝘵𝘩𝘳𝘰𝘶𝘨𝘩 𝘵𝘩𝘪𝘴 𝘸𝘪𝘵𝘩 𝘵𝘩𝘦 𝘪𝘯𝘵𝘦𝘯𝘵𝘪𝘰𝘯 𝘰𝘧 𝘶𝘭𝘵𝘪𝘮𝘢𝘵𝘦𝘭𝘺 𝘢𝘤𝘤𝘦𝘱𝘵𝘪𝘯𝘨 𝘪𝘵, 𝘰𝘳 𝘢𝘳𝘦 𝘺𝘰𝘶 𝘳𝘦𝘴𝘪𝘴𝘵𝘪𝘯𝘨 "𝘸𝘩𝘢𝘵 𝘪𝘴"?  𝘉𝘦𝘤𝘢𝘶𝘴𝘦 𝘳𝘦𝘴𝘪𝘴𝘵𝘪𝘯𝘨 𝘪𝘵 𝘸𝘪𝘭𝘭 𝘤𝘰𝘯𝘵𝘪𝘯𝘶𝘦 𝘵𝘩𝘦 𝘱𝘢𝘪𝘯.
𝘓𝘦𝘵𝘵𝘪𝘯𝘨 𝘨𝘰 𝘪𝘴𝘯'𝘵 𝘢𝘣𝘰𝘶𝘵 𝘴𝘢𝘺𝘪𝘯𝘨 𝘪𝘵 𝘥𝘪𝘥𝘯'𝘵 𝘮𝘢𝘵𝘵𝘦𝘳, 𝘪𝘵'𝘴 𝘢 𝘭𝘦𝘵𝘵𝘪𝘯𝘨 𝘨𝘰 𝘰𝘧 𝘵𝘩𝘦 𝘳𝘦𝘴𝘪𝘴𝘵𝘢𝘯𝘤𝘦 𝘰𝘧 𝘵𝘩𝘦 𝘯𝘢𝘵𝘶𝘳𝘢𝘭 𝘦𝘹𝘱𝘦𝘳𝘪𝘦𝘯𝘤𝘦 𝘵𝘩𝘢𝘵 𝘪𝘴 𝘵𝘢𝘬𝘪𝘯𝘨 𝘱𝘭𝘢𝘤𝘦.  
𝘛𝘩𝘦 𝘮𝘢𝘪𝘯 𝘰𝘣𝘴𝘵𝘢𝘤𝘭𝘦 𝘩𝘦𝘳𝘦 𝘪𝘴 𝘵𝘩𝘦 𝘶𝘯𝘸𝘪𝘭𝘭𝘪𝘯𝘨𝘯𝘦𝘴𝘴 𝘵𝘰 𝘦𝘹𝘱𝘦𝘳𝘪𝘦𝘯𝘤𝘦 𝘵𝘩𝘦 𝘸𝘪𝘵𝘩𝘥𝘳𝘢𝘸𝘢𝘭 𝘰𝘧 𝘭𝘰𝘴𝘪𝘯𝘨 𝘵𝘩𝘪𝘴 𝘱𝘦𝘳𝘴𝘰𝘯. 𝘠𝘰𝘶 𝘩𝘢𝘷𝘦 𝘵𝘰 𝘢𝘴𝘬 𝘺𝘰𝘶𝘳𝘴𝘦𝘭𝘧, "𝘊𝘢𝘯 𝘐 𝘩𝘢𝘯𝘥𝘭𝘦 𝘵𝘩𝘪𝘴?"
𝘈𝘯𝘥 𝘪𝘵'𝘴 𝘢 𝘳𝘩𝘦𝘵𝘰𝘳𝘪𝘤𝘢𝘭 𝘲𝘶𝘦𝘴𝘵𝘪𝘰𝘯 𝘣𝘦𝘤𝘢𝘶𝘴𝘦 𝘪𝘧 𝘺𝘰𝘶 𝘴𝘢𝘺 𝘺𝘰𝘶 𝘤𝘢𝘯'𝘵 𝘩𝘢𝘯𝘥𝘭𝘦 𝘪𝘵, 𝘵𝘩𝘦 𝘢𝘭𝘵𝘦𝘳𝘯𝘢𝘵𝘪𝘷𝘦 𝘪𝘴 𝘨𝘪𝘷𝘪𝘯𝘨 𝘱𝘦𝘳𝘮𝘪𝘴𝘴𝘪𝘰𝘯 𝘧𝘰𝘳 𝘺𝘰𝘶𝘳 𝘭𝘰𝘸𝘦𝘳 𝘴𝘦𝘭𝘧 𝘵𝘰 𝘵𝘢𝘬𝘦 𝘰𝘷𝘦𝘳 – 𝘨𝘪𝘷𝘪𝘯𝘨 𝘺𝘰𝘶𝘳 𝘭𝘪𝘧𝘦 𝘵𝘰 𝘵𝘩𝘦 𝘭𝘰𝘸𝘦𝘴𝘵 𝘱𝘢𝘳𝘵 𝘰𝘧 𝘺𝘰𝘶𝘳 𝘣𝘦𝘪𝘯𝘨.  𝘛𝘩𝘦 𝘶𝘭𝘵𝘪𝘮𝘢𝘵𝘦 𝘰𝘣𝘴𝘵𝘢𝘤𝘭𝘦 𝘪𝘴 𝘵𝘩𝘦 𝘸𝘪𝘭𝘭𝘪𝘯𝘨𝘯𝘦𝘴𝘴 𝘵𝘰 𝘢𝘤𝘤𝘦𝘱𝘵 𝘪𝘵 𝘴𝘰 𝘺𝘰𝘶 𝘤𝘢𝘯 𝘭𝘪𝘷𝘦 𝘭𝘪𝘧𝘦 𝘪𝘯 𝘺𝘰𝘶𝘳 𝘩𝘪𝘨𝘩𝘦𝘳 𝘴𝘦𝘭𝘧."
–––––
As I move through this 'rearrangement' of people I get to enjoy each day, I choose to stay busy.
The words currently in my Google search bar:
'How to release an album'
After the Nashville recording adventure mentioned in my previous post, I'm grateful this will be a new project to fit in between work and lullabies.
An empty cup I can pour my thoughts into.
When you have a lot going on, the days move fast.
Like trying to grab a slippery fish with bare hands.
I have to intentionally make the space to slowly BREATHE.
–––––
Here is the next batch of sneak peeks. 🎶 🎤
I'll post 'Behind The Lyrics' when the full songs are ready to be released, but in the meantime, introducing:
🎵  Best Life Ever
🎵  I Will Trust You
🎵  Love Will Remain
Making this album is a fascinating experience of learning, growth, and release.
With songwriting, it's the one area of my life I can be happy without being dependent on a specific achievement beyond personal satisfaction.
✅  I love the process
✅  I aim to do my best
✅  It's connected to a higher purpose whether for music therapy or simply creative delight.
When limiting beliefs creep in such as what someone might think of a particular song, or if I'm even good enough to bother…
I encourage myself to focus on one good thing:
One catchy melody.
One lyric that moves me.
It quiets the chatter in my mind.
I'll ask myself…
"Is this negative thought useful?"
The answer is always, "No."
The goal is how to redirect our focus to the joy of simply creating.
Or [insert whatever activity brings YOU joy].
And really, it doesn't matter because you are going to die. So am I.
One day.
At that point, what will it matter if you hit the wrong note?
Or missed the shot?
Or forgot the words?
Or said something embarrassing?
It won't matter.  What will matter is…
💥 You did it.
💥 You sang.
💥 You took the shot.
💥 You got the courage to introduce yourself.
Mistakes are part of the creative process, but the more mistakes you make, over time you begin to develop a relationship with them.
Ever thought about where the '40' comes from in WD-40?
It's the number of times it took to get the right formula.
–––––
We say the words "One Day" because it doesn't make sense to do "the thing" right now.
- kids are still at home
- no time or money
- too busy
- too old
- not good enough yet
The idea of not being alive to one day do the thing you want to do almost seems unreal.
I know it felt that way to me.
But when I was sitting on the edge of my Dad's literal death bed and witnessed him take his final breath of life…
It became REAL.
There were no more notes he could sing.
No more shots he could take.
No more candles to blow out.
No more anything…
–––––
Dad did a lot while he was here — THAT I will remember.
He lived intentionally.
I didn't realize he was teaching me by example until recently while reflecting on ALL the things I'd already done thus far in life.
And if I'm being truly honest with myself, all of the excuses never seemed to matter when it was something I felt called to do.
I found the money.
I made the time.
➡️ When it really mattered.
I backpacked alone through Europe for 2.5 months at age 22 on a *very* tight budget before getting a "real" job.  It was AMAZING.
I found a way to record my first album in 2010 right before saving up to make the leap starting a business with a lot of unknowns, living paycheck to paycheck and doing trades. I had a lot of time, little money.
On the flip side, I'm now making this album while seemingly have no time, running a business that supports a team and their families, nurturing a marriage, while also being a present parent for three young kids.
There are some days when I literally have no energy to make one more decision, one more snack for tiny fingers, one more ANYTHING beyond the bare minimum. 😮‍💨
And then other days I feel "on", completely in flow to create beyond what feels possible. 😎
What seems to be the trick (for me)?
1. Allowing GRACE when my brain feels quiet, while simultaneously embracing the abundant flow of creativity when it presents itself.
I didn't feel musically inspired for 10 years.
That's A LOT of grace.
2. Nurturing the creativity.
Once a couple of song ideas started trickling in, I began consciously allowing the music to present itself.
Literally visualizing opening space for it in my brain.
Moving my body in new ways to hopefully rewire the neurotransmitters in my brain to reactivate what had been dormant for a while.
3. Meditation each night to calm my nervous system, which had been on overdrive as we watched my amazing Dad go from being the healthiest person we knew to requiring 'round the clock care as pancreatic cancer tightened its deathly grip, and then… gone within months.
There will always be misses. I've swung and missed plenty. 🤦🏻‍♀️
I used to keep rejection letters from art schools and scholarships I applied for, harboring the memory of every "No."
It builds muscle.
They hurt less over time.
It all works out. Even when it doesn't, it does.
We don't know WHY things happen for us the way they do.
But at my last breath, I'll know I SHOWED UP.
Dealt with the misses.
Aimed to love the process even when it was hard.
Even that one time it was *really* hard.
During a 1 hour heart-centered conversation with someone who lost his own father, he graciously shared with me the final few words of his amazing dad:
"It was worth it."
For each of us supporting each other as we find our own ways to make life worth it… Feeling Blessed & Grateful ❤️